News for September 2009
InfoWorld has published the Best of Open Source Software Awards 2009. Kamailio (OpenSER) has been awarded within category: Best of Open Source Networking Software.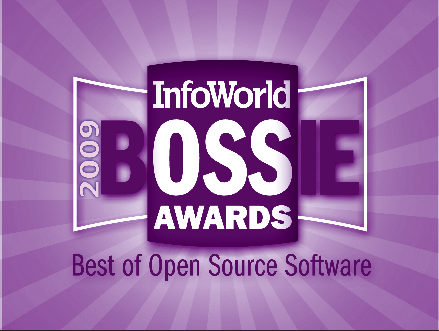 From InfoWorld site:
"Award winners in network and network management are old favorites Cacti and Nagios, the IPCop firewall, Kamailio SIP proxy server, KeePass password manager, Openfiler SAN/NAS appliance, OpenNMS enterprise monitoring system, PacketFence network access control solution, Puppet configuration management framework, and Untangle network security gateway."
"Kamailio is the open source SIP proxy server formerly known as OpenSER. Used with an Asterisk IP PBX server for phone features, plus a hardware gateway for connection to the outside world, Kamailio brings important call handling and scalability benefits to Asterisk, while also removing the Asterisk server as a single point of failure. Larger organizations get the phone features they need, as well as the added safety of VoIP calls surviving an Asterisk server outage."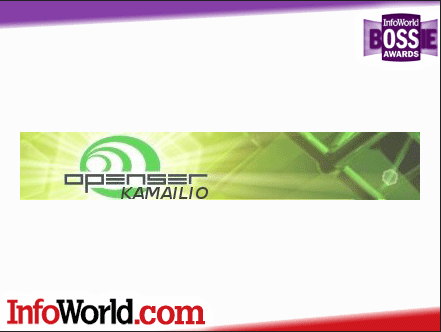 On the other hand, Kamailio project is approaching the time for a new major release — a matter of days to enter the testing phase — this one will be versioned Kamailio 3.0 to reflect the major enhancements, among them: the http://sip-router.org core, asynchronous TCP, asyncronous SIP message processing API, memcached backend, native topology hiding, nat traversal using kernel space for media relaying … see more at:
http://sip-router.org/benefits/
http://sip-router.org/wiki/features/new-in-devel
Edited: September 2nd, 2009
Next SIP Router Masterclass will be held  November 9-13, 2009 in Berlin, Germany.
Teachers:
Daniel-Constantin Mierla – co-founder of Kamailio (former OpenSER) project in 2005, currently core-developer and member of project's management board
Olle Johansson – Asterisk developer and member of the Digium Asterisk Advisory Board.
By end of 2008, Kamailio (OpenSER) and SIP Express Router (SER) started a joint collaboration under http://sip-router.org project, bringing together valuable developers and architects of SIP servers. Kamailio 3.0 and SER 3.0 (to be released soon) become compatible in terms of configuration file and extensions.
Learning to configure the SIP server is not easy, but is the key for a successful and secure VoIP business. The flexibility of SIP routing engine allows you to implement in no time innovative services, IP telephony, Instant Messaging, Presence and beyond. Asterisk comes to complete with rich media services and applications. Doing everything designed right and scalable saves time and money.
We create the opportunity for you, guided by experienced instructors, to learn how to build an Unified Communication platform from scratch using the SIP server engine and Asterisk.
Click here for course details and registration.
Edited: September 1st, 2009