News for April 2017
The first version of Kamailio World 2017 schedule has been published:
Two days and a half of sessions related to real time communications, covering Kamailio and other open source projects such as Asterisk or FreeSwitch and common use cases such as telephony services, WebRTC, IMS/VoLTE, next generation emergency services or OTT platforms. The first day afternoon is hosting the workshops, the sessions where to expect more hands on examples. The second and the third days continue with conference presentations and interactive panels. Like in the past editions, several companies will exhibit and show demos during the conference days,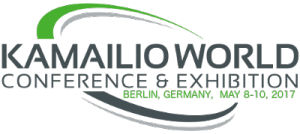 Many renowned people of the industry as well as community members are confirmed to participate, definitely an edition one must not miss! Don't delay your registration, the capacity of the room is limited and we expect to be fully booked again! Register now!
Looking forward to meeting many of you in Berlin!
And thank you for flying Kamailio!
Edited: April 4th, 2017