News for April 2016
Time is passing and Kamailio World Conference 2016 is approaching at fast pace – only four weeks left till the start of the event!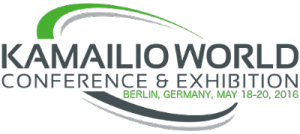 The schedule is pretty much nailed down, with some adjustments still expected to happen. The event starts like the past edition with a half a day of technical workshops, followed by two full conference days.
A larger group of speakers is participating to this edition. There was a big number of speaking proposals and we wanted to highlight more of the people that had a relevant contribution to the evolution of the project. To accommodate properly, two more discussion panels were added, keeping also the classic VUC panel.
The topics cover many of the interesting aspects of real time communications, from security and scalability to WebRTC and VoLTE, touching Kamailio and other open source projects like Asterisk or FreeSwitch.
More details can be found on the website of the event:
Don't forget that this year Kamailio celebrates 15 years of development, the party is at Kamailio World!
We expect to fill the capacity of the conference room, if you haven't registered yet and plan to attend, do it as soon as possible to secure your seat!
Many thanks to our sponsors that made possible this event: FhG Fokus, Asipto, Sipwise, Matrix.org, Sipgate, Simwood, NG Voice, Digium, VoiceTel, Evariste Systems, Core Network Dynamics, Pascom, Didx.net.
Thank you for flying Kamailio and looking forward to meeting many of you at Kamailio World 2016!
Edited: April 20th, 2016