News for April 2013
Kamailio SIP Server v4.0.1 stable is out – a minor release including fixes in code and documentation since v4.0.0 – configuration file and database compatibility is preserved.
Kamailio (former OpenSER) v4.0.1 is based on the latest version of GIT branch 4.0, therefore those running previous 4.0.x versions are advised to upgrade. There is no change that has to be done to configuration file or database structure comparing with older v4.0.x.
Resources for Kamailio version 4.0.1
Source tarballs are available at:
Detailed changelog:
Download via GIT:
 # git clone –depth 1 git://git.sip-router.org/sip-router kamailio
 # cd kamailio
 # git checkout -b 4.0 origin/4.0

Binaries and packages will be uploaded at:
Modules' documentation:
What is new in 4.0.x release series is summarized in the announcement of v4.0.0:
Edited: April 25th, 2013
Asipto is very glad that Kamailio World Conference made its debut with a great success. As main organizers, this event was quite a huge task for us. We coordinated other events in the past, such as 10 Years SER or other Kamailio conferences, but none was at this scale yet.
More than one hundred people from North and South America, Africa, Asia and Europa came in Berlin for this first edition of Kamailio World, where over twenty speakers filled the agenda for the two days. The biggest achievement of this event was to show to the world that Kamailio is solid project, with consolidated development and business communities.
Next picture shows Daniel-Constantin Mierla and Elena-Ramona Modroiu, co-founders of Kamailio projects and members of Asipto team, opening the event.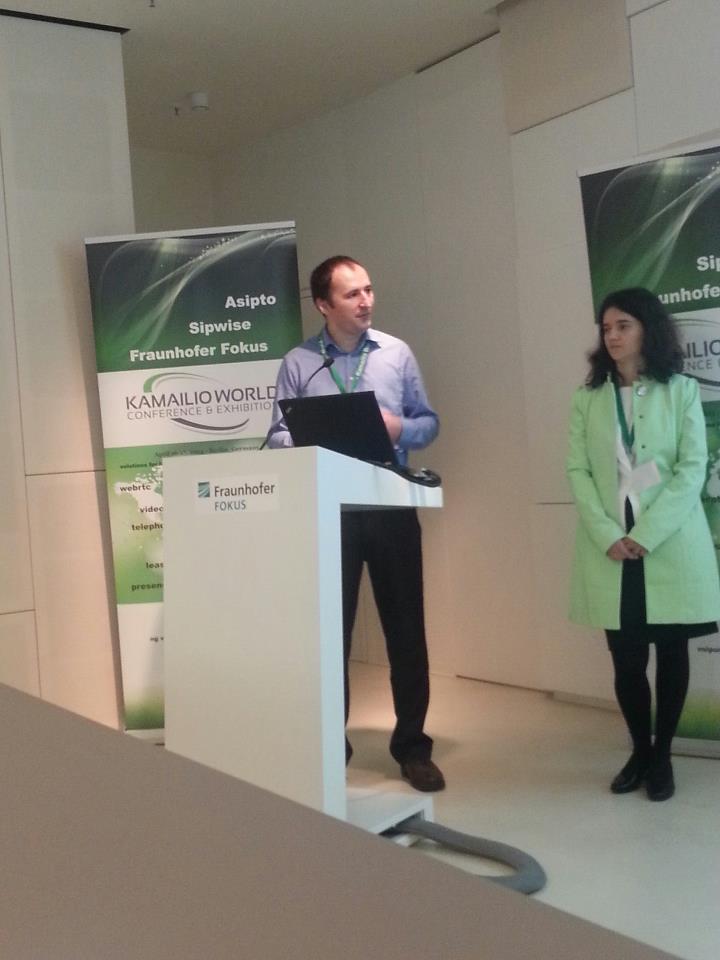 After a short break, we will start preparing for the next edition, planned for spring 2014. Meanwhile you can look at the slides presented during the event, being published at:
The sessions were recorded, videos should become available on the web in the near future.
We would like to thank to all participants to the first edition of Kamailio World Conference, with special thanks to the sponsors that made possible to bring together an excellent group of professionals in real time communications.
If anyone wants to provide any kind of feedback, please contact us. We are looking forward to meeting many of you at next edition of Kamailio World.
At the end, a panoramic picture of conference room during a presentation.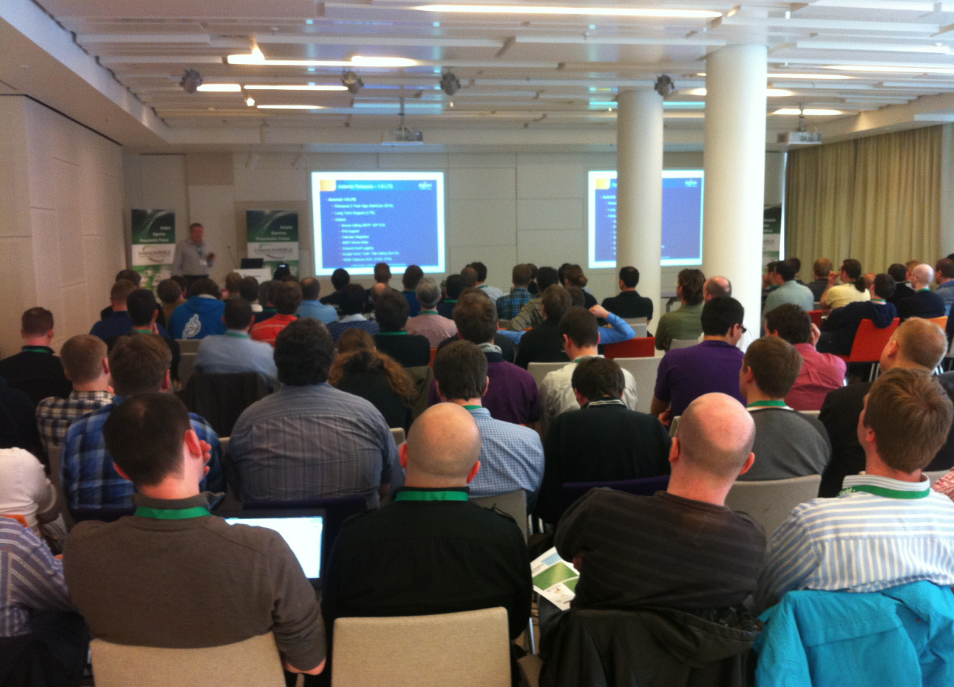 Edited: April 24th, 2013
Most of the slides presented last week at Kamailio World Conference are now available on the web at:
Details about each speaker are available at:
The schedule can be browsed at:
The sessions were recorded, but they need editing to make them web-ready – the size of video files is huge, recording being full HD, therefore is going to take a while until they will be made available.
Edited: April 23rd, 2013